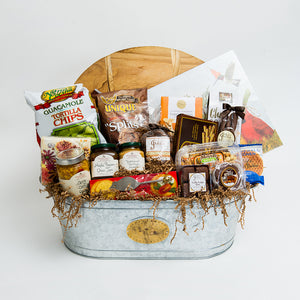 This over-the-top deluxe collection makes the ultimate impression.
This basket includes the following:
Tortilla chips, dipping pretzels, cheese twists, dipping mustard, assorted sweet and savory jams, salsa, trail mix, assorted chocolate and candies, crackers, serving spreader, decorative platter/cutting board, paper napkins, galvanized metal beverage tub.
*Due to seasonal and small vendor product availability, items may be substituted.
Local Delivery with $50 minimum purchase to: 08087, 08092, 08050, 08008, 08006, 08005, 08758
Shipping on this product is not currently available.