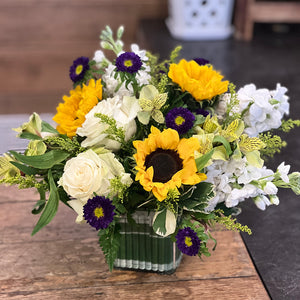 Sunday, August 27, 2 pm
Don't miss the chance to join us for our beautiful Sunny Summer centerpiece class led by the talented Miss Kim. This popular class fills up quickly, so reserve your spot today! For just $50.00, join us at 2:00 pm for a delightful afternoon of creativity and fun. Not only will you learn the art of crafting a stunning floral arrangement, but you'll also receive a special coupon, and one lucky winner will take home one of our favorite candles. This is the perfect way to add a touch of summer sunshine to your home, so come and be part of this enjoyable floral experience! 
Please note that cancellations for this class are non-refundable. We can't wait to see you there!