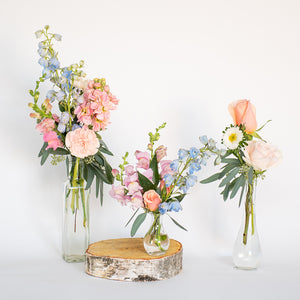 A collection of bud vases to be gathered together and displayed as a vignette or separated and enjoyed throughout your home.  Each assortment is unique and full of seasonal blooms.
SUBSTITUTION POLICY: 
In certain instances, our sample photos are representative of an overall theme or style and include a one-of-a kind vase which cannot be exactly replicated.
The actual arrangement/bouquet/planter may not exactly match the photo, but its disposition will. The photos are for reference only.  Our floral selection is ever-changing to ensure a fresh, seasonal mix of blooms with a varying color pallet. There will be times when substitutions of flowers, plants, or vessels may happen due to weather, seasonality, and market conditions which may affect availability. If this should happen with the item you have selected, we promise that the style, theme, and color scheme of your gift is maintained, and we will only substitute items of equal or higher value.
If any design elements are of high importance to your order including color, style, or allergies please list the details in the notes section at checkout or contact us directly at 609-597-6099. We will try and accommodate special requests.
Complete your gift with one of these special items: