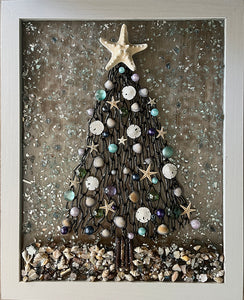 Thursday, November 2, 6 pm

Join us for a unique and creative workshop where you'll craft a stunning Holiday Tree using epoxy resin, infused with seaside charm from fishnet, baubles, shells, starfish, sand, and sparkles! This hands-on class, welcomes all levels of crafters to explore their artistic side. You'll take home your creation in a provided box (please ensure it lays flat in your car), and after an overnight drying, it'll be fully cured in 72 hours. While we'll provide aprons, please dress comfortably, as epoxy resin does not wash out easily. Don't miss this chance to add a touch of coastal magic to your holiday decor - reserve your spot today! 
Please note that cancellations for this class are non-refundable, as materials are prepared in advance.