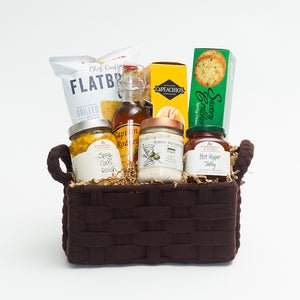 Featuring our top customer favorites!
This basket includes the following:
Captain Rodney's cheese bake, Stonewall Kitchen Spicy Corn Relish, Stonewall Kitchen Hot Pepper Jelly, Robert Rothschild Dirty Martini Dip, Assorted Crackers, Tortilla Chips
*Due to seasonal and small vendor product availability, items may be substituted.
Local Delivery with $50 minimum purchase to: 08087, 08092, 08050, 08008, 08006, 08005, 08758
Shipping on this product is not currently available.